Ashbourne toilets sell for £100,000 at London auction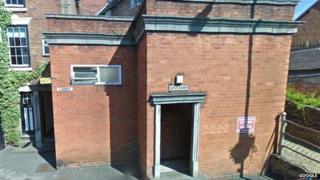 A man has splashed out £100,000 to be able to spend a penny in a Derbyshire town.
Ashbourne's Union Street toilet block, a single storey brick building, sold in London for ten times its reserve.
Derbyshire Dales District Council closed the toilets two years ago after building one large "super loo".
Auctioneers Lambert Smith Hampton said ideas for its use include an office space, cafe, advertising billboard - or it could simply be knocked down.
The bidder, revealed by the Ashbourne News Telegraph as pizza chef Benny Morabi, said he is not sure what he will do with the property.
The auction was held in a packed room at a "glamorous" London hotel in Mayfair.
Dozens of people started a bidding war smashing the initial estimate of £10,000, auctioneer Simon Riggall said.
"The point of an auction is to establish a true value on properties that are quite frankly, impossible to put a realistic value on," he said.
"There were a very large number of bids at the start... they dwindled away, finally you are left with two people face to face going up £1,000 at a time, up and up and up."
"The winner looked pretty flushed with success by the time he got his hands on it," he added.
The toilet block was not the only unusual lot up for grabs. A school in Northampton was available, as was the old tourist information centre in Ashbourne, also sold by the council.
A spokesman said the money from the sale will go into its capital programme.
Some of that will go towards the revamp of Ashbourne's leisure centre.
They also have one large "super-loo" building in the centre of the town rather than lots of little conveniences.