Fugitive Priest arrest warrant 'had been withdrawn'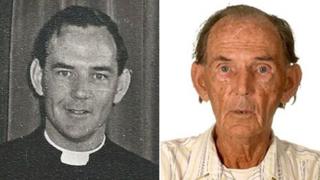 A paedophile priest wanted for a string of sexual assaults had his arrest warrant withdrawn more than a decade ago because the courts thought he would never be found, it has emerged.
Francis Cullen, 85, spent more than 20 years on the run in Tenerife before he was extradited last year.
A warrant had been issued for his arrest after he skipped bail in 1991 but it was withdrawn in 2000,
Police said the decision was a matter for the courts.
Cullen admitted abusing five boys and two girls, aged six to 16, connected to churches in Mackworth and Buxton in Derbyshire and Hyson Green in Nottingham, in offences dating back to 1957.
He will be sentenced at Derby Crown Court on 24 March.
In a statement, HM Courts Service said: "The courts, police and CPS regularly review old cases and arrest warrants. If it is believed there is no prospect of an arrest being made a decision can be made to withdraw a warrant."
The arrest warrant had previously been renewed three times before being withdrawn.
Det Con Matt Goodwin, of Derbyshire Police, said it took 21 years to arrest the priest because "he did not want to be found".
"We had some concrete information in 2012 that Father Cullen had been living in Tenerife. That information had come to us from the Catholic Safeguarding Board," he said.
"That was the start in getting a European warrant to get this man back to this country."
Cullen, born in Dublin, worked in Scunthorpe, Leicester, Nottingham and Alfreton, Buxton and Mackworth, Derbyshire.
Police have urged any other victims who have not yet come forward to contact them.