Sandvik job losses 'tragic' for Derbyshire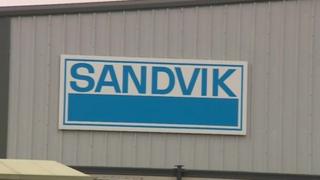 An MP says the transfer of an engineering firm's production facilities to Northern Ireland is "tragic" for workers in Derbyshire.
Swedish firm Sandvik is reorganising its UK operations, which involves cutting 360 jobs from its plant in Swadlincote, Derbyshire.
But Sandvik said it will keep offices and 80 employees there.
South Derbyshire MP Heather Wheeler hopes other businesses in the area will take on some of the workers.
"It's tragic and I feel incredibly sorry for all of the individuals and the families involved," she said.
The firm plans to "wind down" its production facilities in Swadlincote with their output finally transferred to Ballygawley, County Tyrone, by early next year.
The MP added: "It's going to be over a 12-month period and we will do everything we can to make sure that people that aren't going to take the opportunity just to retire, but need to carry on working, will find a decent fulfilling job here in South Derbyshire."
Other big employers in the area include Toyota, Nestle and Brunel Healthcare.
Unite said the job loss announcement had come out of the blue and it will be starting urgent negotiations with Sandvik on Monday.
Of the 360 jobs lost in Derbyshire, 160 will be transferred to County Tyrone.
Northern Ireland's Enterprise Minister Arlene Foster said the move was a "tremendous endorsement" of the staff and management at the Ballygawley site.
Sandvik's managing director, Terry Allison, said it is currently running two factories at 50% capacity, and this is "neither efficient nor sustainable".
He said: "In order to stay competitive, we propose moving all our production onto the Ballygawley site, which is the right size to meet both the current and anticipated demand for our mobile crushers and screeners."