Derby fire: Firefighters tackle Assembly Rooms car park blaze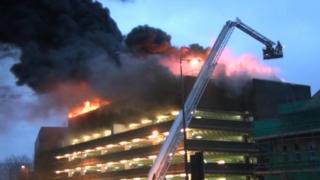 A large fire at a multi-storey car park closed off parts of Derby city centre.
The blaze started on the top floor of the car park of the city's live venue, the Assembly Rooms, shortly after 17:30 GMT.
By 21:40 GMT Derbyshire Fire Service said it was scaling down operations and investigators would be at the site in the morning.
At its height eyewitnesses reported seeing "large, thick, black plumes of smoke" coming from the car park.
Many roads around the city centre were closed including Full Street, Derwent Street, Corporation Street and St Alkmund's Way.
Gavin Tomlinson, fire service area commander, said the blaze started in the plant room at the top of the car park in Market Place.
"The fire spread very, very quickly and it was extremely difficult to deal with as it was not safe to go in and physically put it out," he said.
"One of our main concerns was preventing it from spreading into the Assembly Rooms itself."
'Spread really quickly'
The fire service has said anyone with a vehicle inside the car park would be reimbursed by the council for any extra charges they would face.
BBC Radio Derby reporter Wesley Mallin, who was at the scene, said that at one stage debris could be seen falling from the car park.
Earlier, Derbyshire Police said they had widened the cordon with the danger of vehicles in the car park "exploding".
Superintendent Gary Parkin said officers had evacuated nearby buildings and asked people to be patient while they worked to get the city centre "back to normality as soon as possible".
Dancer Anton Du Beke's show, which had been scheduled for the Assembly Rooms on Friday night, was cancelled.
Pete Meakin, from Derby Live, said performances over the weekend had also been cancelled.
Earlier he said: "Fortunately we know everyone got out of the Assembly Rooms building and we are now ringing around the audiences to make sure they don't come into the city centre."
Will Hives, 36, who lives nearby, was in a restaurant when he noticed the smoke, and said: "You couldn't see flames at first, just plumes of black smoke.
"It spread really quickly. Within 10 minutes it was really alight and was sweeping across the whole building."