Derby fire: Assembly Rooms car park blaze 'accidental'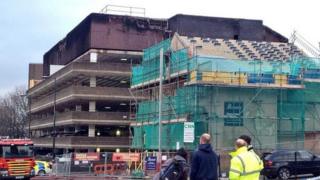 A multi-storey car park blaze that closed off parts of Derby city centre is thought to have started accidentally.
The police and fire service are jointly investigating the cause of the Assembly Rooms car park fire, which broke out shortly after 17:30 GMT on Friday.
But the fire service said there was nothing to indicate anything other than an accidental cause.
Firefighters prevented the blaze from spreading to the Assembly Rooms itself.
Motorists were unable to recover their cars after the fire broke out.
The fire service say people can collect their cars by reporting to the Council House before 16:00 GMT.
Friday night's shows at the Assembly Rooms were cancelled, but Saturday's St Patrick's Day parade in the Market Place has not been affected.
A spokesman said shows had been cancelled up to and including 24 March. Comedian Sarah Millican was due to perform there on Tuesday, Wednesday and Thursday.
Strictly Come Dancing performer Anton du Beke, who was due to perform at the Assembly Rooms, saw black smoke when he arrived for rehearsals.
He told the Derby Telegraph: "I don't know how badly damaged it is inside but the firefighters have done a tremendous job."
Police said there had been a danger of vehicles in the car park "exploding".
Gavin Tomlinson, fire service area commander, said the fire spread "very, very quickly" and it was "extremely difficult to deal with as it was not safe to go in and physically put it out".
It started on the top floor of the car park in Market Place.
Mr Tomlinson said: "The whole of the top level of the car park has been destroyed by fire, and that's the level which contains the plant room, which provides the heating, hot water and air conditioning services for the Assembly Rooms itself."
He said there was no risk of the car park collapsing, but the fire had caused steelwork and brickwork to come loose.
"There's a lot of water up there," he said.
"I think we contained the fire completely to the top level. The top two levels of the car park are empty from cars, so we don't believe there's any damage to the cars.
"We are doing the fire investigation now, a joint investigation with the police, and we will rule nothing out, but I have to say at this point there's nothing to indicate anything other than accidental."
At the fire's height eyewitnesses reported seeing "large, thick, black plumes of smoke".
By 21:40 GMT on Friday Derbyshire Fire Service said it was scaling down operations.