'Dumped' dog rescued from deep hole in Derby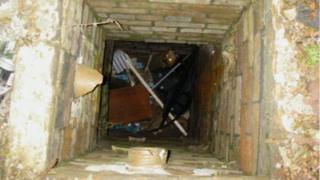 A trapped dog has been rescued after being heard crying for help from down a deep hole on wasteland.
The Yorkshire Terrier, named Peanut, was rescued from a former Rolls-Royce factory site in Derby by the fire service and RSPCA.
RSPCA inspector Chris Shaw believes the six-year-old dog had been dumped and would have "perished away" if she had not been found.
He said she was desperately screaming for help when he found her.
"I walked over, I found her, and then I shone my torch down this large hole, it was like at least 10ft deep, and sure enough here was this little dog," said Mr Shaw.
"She just started to scream, and scream and scream, obviously wanting to get out as soon as possible."
The RSPCA was alerted by a member of the public on Wednesday evening.
Mr Shaw then contacted the fire service for help rescuing the dog.
He thinks she was dumped because the area she was found in has a large wall all the way around, with barbed wire.
"I can't see how the dog would have got in there herself," he said.
"For them to dump her in an area where the dog can come to harm, there's just no need, and it needs to stop.
"She probably would have perished away and probably no-one would have ever noticed, which doesn't bear thinking about really."
He asked for anyone with information about who could have abandoned the dog to contact the RSPCA.
Peanut is now being looked after by the RSPCA in Derby.
She appears to have no injuries apart from a possible problem with one of her legs.
"For her to fall at least 10ft is quite serious really," said Mr Shaw.
"I mean it's almost like us falling down a 10-storey building."