Westfield sells Derby, Merry Hill and Sprucefield shopping centres to Intu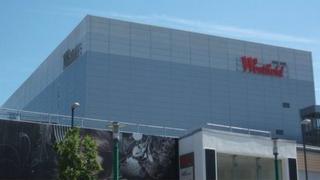 The first Westfield shopping centre in the UK has been sold as part of a deal worth nearly £600m.
Intu properties has bought the Westfield Centre in Derby, which opened in 2007, for £390.3m.
It also bought the Sprucefield retail park in County Down for £69.8m and Westfield's half share of the Merry Hill centre near Dudley for £407.7m.
Once other parties' shares were deducted, Westfield's share of the £867.8m total was £597m.
'Meld together'
Westfield, which now owns two shopping centres in London and Stratford, put the Derby centre up for sale last year.
Intu owns 12 shopping centres in the UK, including Manchester's Trafford Centre and the Potteries in Stoke-on-Trent.
Earlier this year, the London-based firm, which owns Nottingham's Victoria Centre, bought the city's Broadmarsh Centre for £150m.
Leader of Derby City Council Paul Bayliss said: "The first thing we'll do is welcome them to Derby. We'll see what their plans are in terms of investment to the shopping centre and see what they want to do in the future.
"We want to talk about our plans and what we intend to do with the city centre and make sure the two meld together."