Hundreds of peregrine falcons kept secret 'for safety'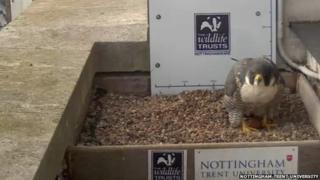 The locations of hundreds of peregrine falcons are kept secret to protect them from being killed and having their eggs stolen.
The progress of birds nesting at the top of buildings in Nottingham and Derby is broadcast daily on webcams as bird lovers wait for eggs to hatch.
However the locations of many other nests are not revealed.
The RSPB says it is keeping tight lipped to give the predatory birds "peace and quiet" to breed.
'Nervous wait'
Last week it was announced a pair had nested near the Snake Pass in North Derbyshire and were thought to be sitting on four eggs.
If breeding is successful, it will be the first time to happen in the area for seven years.
Tim Melling, senior conservation officer for RSPB Northern England, said: "It is important they don't get disturbed at this stage.
"There is a big finger of suspicion that foul play has been involved in the past so at the moment we are keeping quiet about where exactly they are.
"We are keeping an eye on them and our fingers crossed we will have something to celebrate in a month's time."
Mr Melling said the birds are often attacked or interfered with by gamekeepers, pigeon fanciers, egg collectors or illegal falconers.
Peregrines nesting on a tower at Derby Cathedral and on a Nottingham university building have become more of an attraction in the last 10 years as their progress is broadcast on cameras.
This week it was announced both pairs had laid eggs and conservationists say they were now "waiting nervously".
Erin McDaid, from the Nottinghamshire Wildlife Trust, said cold weather and rain sometimes makes things difficult for the peregrines.
He said: "We have nothing to do now but watch, which has been a bit fraught over the last couple of years because of interesting weather.
"We are still a little nervous we might get some colder weather in April."
Last year the birds faced thick snow and in 2012 the female bird abandoned her chicks in heavy rain and they died.
'Stunning and charismatic'
Mr McDaid said the use of webcams had seen an increased interest in the birds.
He added: "They are stunning and charismatic birds and everyone should be able to see them but they are still under threat so the cameras were installed for security reasons.
"There are others we are aware of nesting in the region but we can't say where they are or how many for their safety.
"It also means we can't engage the public in helping us keep an eye on the nests because we are at the mercy of people who may have other intentions."
Eggs laid by the birds will now take up to 30 days to hatch.