Derby City Mission winter shelter closes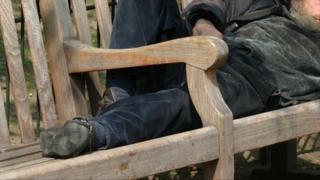 Some homeless people have been left with "nowhere to go" after a shelter announced it was closing its doors.
Derby City Mission's shelter was set up for the winter after the city council announced £6m of cuts to services which supported homeless people.
Project director Rev Graham Watkins said that all of its 35 beds had been filled in the last few weeks.
But councillor Baggy Shanker said there should be "no need" for anyone to sleep rough in the city.
'Starving hungry'
One user of the service, who gave his name as Wayne, said he did not know where he would have gone if the shelter, which has housed about 200 people over the winter, had not been there.
"Once it's gone, it's gone," said the 41-year-old.
"I go to sleep some nights wishing that I don't wake up. What's the point of waking up to walk round the streets, freezing cold, starving hungry, society looking down on you?"
Rev Watkins said: "I am sad in one way that it's closing but it was always something we were going to do over the winter as an emergency during the colder winter months."
He said some rough sleepers had been moved to temporary accommodation.
"Realistically not everyone who stays in that night shelter will have somewhere to go tomorrow and that is a tragedy but we have done everything we can with the local authority's help to provide advice for people about how to move on," he added.
"The reason the night shelter is full is it's very difficult to find the right place for them to go. There are fewer solutions than there used to be."
'No need'
According to government figures, homelessness in Derby increased 96% from 2012 to 2013 - from 24 rough sleepers to 47.
Labour councillor Baggy Shanker said he knew that when £6m was taken out of the budget for housing support in April, homelessness would increase.
He said that council-run shelter Milestone House was available to take homeless people in.
"I don't think there's any need for anyone in Derby to sleep rough," he added.
But Rev Watkins disputed that: "Everything is full. There will be some severe weather beds available at Milestone House, but as an immediate [solution], there's not always an option."