Derby City Council pay changes 'could see wages cut'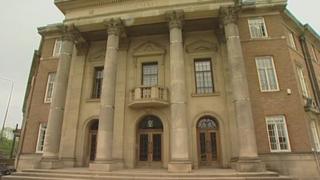 About 800 staff at Derby City Council have seen their pay rise to a "living wage".
But Unison has concerns it could mean a pay cut for some as the council is set to scrap unsociable hours pay.
As many as 2,000 employees' salaries could rise across the council as a result of the ongoing review, the authority said.
Labour councils, including Derbyshire, Nottinghamshire and Nottingham, have also adopted the living wage.
Councillor Sarah Russell said that implementing the living wage was a bid to tackle the rising costs of living.
She confirmed that employees' unsociable hours pay for work in the evenings and at weekends could be slashed as part of the review, which has not yet concluded.
"There are going to be winners and there are going to be losers," she said.
"It's really important for us to make sure that our staff are properly paid.
"There's a challenge out there - real time wages have stayed the same but the cost of things has kept on rising."
Nicole Berrisford, from Unison, said that while the union welcomed the council's new minimum wage, it did not agree with slashing unsociable hours pay.
"This will in effect be a pay cut with immediate effect upon implementation," she said.
"For some council employees this will result in them being plummeted into financial difficulties without any pay protection to support the transition."