Wartime stories from Chatsworth House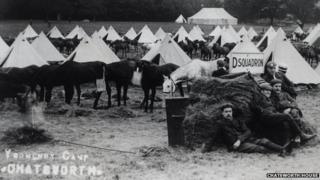 An exhibition telling the story of life at a Peak District stately home during WW1 and WW2 has started.
The Chatsworth House exhibition contains archives, photographs and stories about staff and residents, including those who fought at the Somme and Gallipoli.
It also includes the various roles of the estate as part of the war effort.
Chatsworth was used as a naval hospital, boarding school and training camp for the Derbyshire Yeomanry.
The exhibition features members of the Cavendish family, who fought on the front line.
Charles Mercer Nairne and Lord John Spencer Cavendish, the 9th Duke's brother, were both killed in the early stages of WW1.
Edward Cavendish, who later became the 10th Duke, took part in the Gallipoli campaign and was later invalided back. He was also part of the British delegation to the Paris Peace Conference of 1919, for which he received an MBE.
Other members of the family included in the exhibition are William 'Billy' Cavendish, Marquess of Hartington, who was heir to the estate. He was killed in action in 1944, shortly after marrying Kathleen Kennedy.
The Cavendish family has also researched the history of current estate staff to discover what role their relatives played in both wars.
Park life
Part of the exhibition details how girls from Penrhos College, in Colwyn Bay, Wales, came to stay at the house between 1939 and 1946 after their buildings were acquisitioned by the government.
To launch the show, 48 former pupils from Penrhos College returned to Chatsworth to share their stories and visit their old dormitories.
Nancie Park, who boarded at the house, said: "Seeing the exhibition and the dormitories as they were during the war was amazing and has brought back many memories, both good and bad."
She added: "Despite being caught up in the middle of a war, the four years I spent at Chatsworth were very memorable and I am extremely grateful to Chatsworth for staging the exhibition."
Part of the estate was also used as a convalescent hospital by the Royal Navy for wounded servicemen.
The exhibition, which runs until December, looks at how the estate was used by the Derbyshire Yeomanry, which held camps and trained in Chatsworth Park and were later billeted there at the outbreak of war.
It also tells the story of women as part of the war effort - It includes pictures of Adele Astaire, sister of Fred Astaire, who married Charles Cavendish in 1932.
She worked at the famous Rainbow Club in London during the war, entertaining American troops.