Derby street reopens after car park fire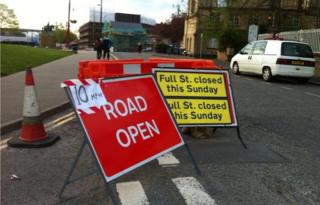 A street closed by a large fire at a Derby multi-storey car park four weeks ago has reopened to traffic.
One lane of Full Street has reopened, but there are controls in place between 7:00 and 19:00 BST so repair work to the Assembly Rooms car park can continue.
The street will be closed to traffic and pedestrians for the next three Sundays.
All events at the neighbouring Assembly Rooms have been cancelled until 11 May.
Councillor Ranjit Banwait, Derby City Council's cabinet member for street pride and neighbourhoods, said: "The reopening of Full Street will ensure we keep Derby moving whilst we press ahead with work to reopen the venue.
"I'd like to thank the people of Derby for their ongoing support and patience whilst we recover from one of our city's biggest incidents in recent years."
The blaze started on the top floor of the car park shortly after 17:30 GMT on 14 March.
The damage left the car park structurally unsound and Full Street was closed for public safety.