Matlock Bath Grand Pavilion begins first full season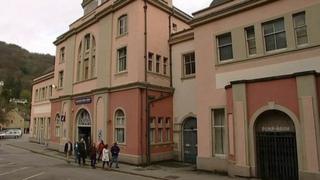 The first full season of live music and entertainment is starting at a historic Derbyshire building after it was rescued by volunteers.
Built as a theatre in 1910, Matlock Bath's Grand Pavilion went through a number of uses before closing in 2008.
In 2012 a charity took over the hall with the intention of restoring it.
Despite not securing the £3.7m needed for a full restoration, the group said it was still a "fantastic venue".
Following a campaign by residents, the charity Grand Pavilion Ltd bought the pavilion from the local council for £1.
The first event was held in 2012 and with a handful more last year.
The group had applied for £3m in lottery funding in 2013 but were unsuccessful.
Now more than 35 concerts and exhibitions are scheduled this spring and summer despite only a limited amount of work being completed.
Head of events, Andie Brazewell, said: "It is not currently the 360-degree theatre that we aspire to.
"It's a little bit scruffy, has no heating - so turn up with your warm clothes - but it has a great atmosphere and is a fantastic venue."