Work on Jubilee Bridge in Matlock Bath begins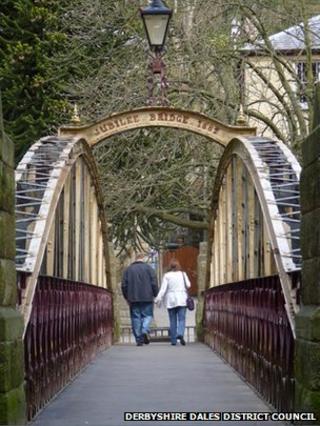 Restoration work costing £210,000 has started on a Victorian bridge in Derbyshire.
Plans to restore Jubilee Bridge, in Matlock Bath, stalled last year because of scaffolding problems.
Derbyshire Dales District Council said it wanted the bridge to be "structurally sound for the future" while restoring it to its original appearance from 127 years ago.
It added that it should reopen for the village's annual illumination season.
As part of the project, the entire bridge will be repainted its original mid-green colour and all metalwork will be blast cleaned and safety checked.
The district council said: "The Jubilee Bridge is getting its first facelift since its centenary year over 25 years ago... and the restoration will be as authentic as possible."
The authority added that the work would be funded through its capital budget after it was brought to the council's attention that the bridge was "in need of refurbishment".
Last year the Environment Agency feared scaffolding could not be removed quickly enough if the river flooded.
The council postponed the work because the delay meant the bridge would have had to remain shut for last year's Matlock Bath Illuminations.
Jubilee Bridge opened for Queen Victoria's Golden Jubilee in 1887.