Derby council house pig 'underfed' at rescue centre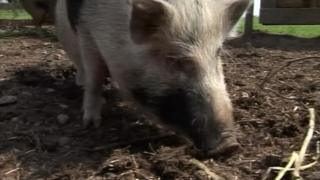 A pig that had been living in a Derby council house died at an animal rescue centre where it had been "seriously undernourished", a court has heard.
Lindsay Newell, of Burton upon Trent, denies 31 charges related to neglect of animals at the Burton Wildlife Rescue and Animal Centre.
Babe the pig died during a raid at the centre in Etwall, Derbyshire, a jury at Stafford Magistrates' Court was told.
The prosecution claims Ms Newell had not arranged for veterinary treatment.
Dingle Clark, prosecuting, said: "The defendant had too many animals. She had too few staff. There was no evidence that she had arranged any veterinary treatment."
There were too many animals of too many different species, including ponies, birds and lambs, and too few staff at the centre, which former veterinary nurse Ms Newell had set up, the court heard.
A goat was found in an "emaciated" state, the prosecution claimed.
Death filmed
Babe made national headlines when it was found living in a council house in Sinfin in March 2012.
The prosecution said the Gloucestershire old spot pig was in a good condition when it was taken to the centre voluntarily by its owner, but deteriorated while it was there because it had been "underfed".
Police and RSPCA officers raided the centre in November 2012 after members of the public raised concerns.
The pig died during the raid and footage of its last moments, filmed by a Derbyshire County Council trading standards officer on a mobile phone, was played to the court.
Mr Clark said: "Quite simply the prosecution say it died because it was not properly fed."
Ms Newell, 27, of Lincoln Road, Stapenhill, was not based at the centre full time, the court heard. She was often out in the evenings on rescue missions.
The trial continues.