Derby baby's death: Court 'disempowered' carers of killed baby boy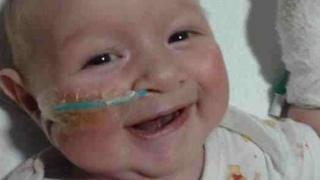 A baby boy who suffered head injuries inflicted by his father was refused a protection order by the courts, a serious case review has found.
James-Lee Riley Pick was seven months old when he suffered fatal injuries.
A report by the Derbyshire Safeguarding Children Board said magistrates had "disempowered" care agencies by refusing to grant a protection order.
The boy's father Nathan Pick, 39, of Waterford Drive, Derby, was later jailed for seven years.
'Significant' bruising
The report into the death of James-Lee, who was born with complex medical needs, highlighted previous concerns about his safety.
It found the boy's mother had pointed out "significant bruising" on her son to hospital staff in February 2012.
An application for an emergency protection order was then made by children's social care services but magistrates ruled the injury was accidental and allowed James-Lee to return home.
On 8 May 2012, Pick was left with his son for 15 minutes at their home when the boy suffered a serious head injury.
He died the following day in hospital from internal bleeding.
The serious case review said social workers had been given no indication of the risks until February.
'Disempowered' by court
It said that although some professionals had been sceptical about the magistrates' decision, they had been powerless to intervene.
The Derby Safeguarding Children Board said its investigation had identified some improvements for agencies and family proceedings court.
It said lessons could be learnt in assessing the emotional needs of families whose children have serious health problems and communicating better with GPs.
It also advised magistrates to take into account the likely consequences for the child in family proceedings.
Board chairwoman, Christine Cassell, said: "The review concludes the practice of professionals was at least competent and in many cases good.
"It does describe how agencies were disempowered by a court decision that is very unusual and to our knowledge has not occurred before. This had implications for the way professionals felt able to protect this little boy when he returned home."
Her Majesty's Courts and Tribunal Service said it had "taken immediate steps" to ensure that such an application would not be handled in such a way in the future.