Worker put hundreds of Derby students 'at risk' of HIV infection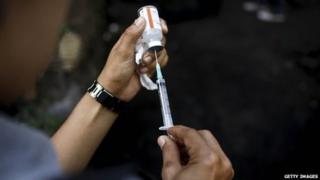 Hundreds of students were put at risk of HIV and Hepatitis B infection after a university worker reused syringe barrels.
Up to 606 students at the University of Derby received blood tests or vaccinations from the occupational health worker between 2005 and 2013.
The worker has been suspended pending an investigation and letters have been sent to students to seek medical help.
Doctors said the risk was "extremely low" but they were taking precautions.
NHS England has been leading the investigation.
'Deeply regrettable'
Medical director, Dr Doug Black, said while syringes were changed between patients, the barrels to which needles are attached, were being reused.
He said: "We are extremely sorry for the undoubted worry and concern people we are contacting may feel on receiving this news.
"I would however like to stress the risk is extremely low and would encourage all those we contact, who may not already have been screened after their time at the university, to present themselves for blood testing."
Dr Black said the health care worker had placed students at risk of infection from the blood borne viruses by incorrectly carrying out clinical procedures between September 2005 and October 2013.
They have now been reported to the appropriate regulatory body and suspended, pending further investigation.
Vice chancellor of the university, Professor John Coyne, called the error "deeply regrettable" and said an advice line had been set up for worried students.
He added: "I apologise for the potential distress this may cause to the people involved."