Spondon wind turbines interfere with East Midlands Airport radar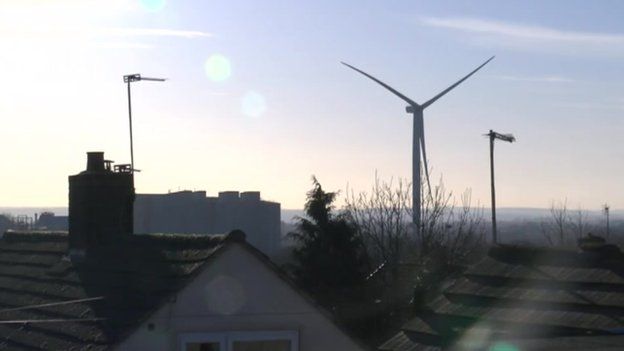 Two giant wind turbines, erected in December, will not turn until later in the year because they cause interference with radar at an airport.
The 130m (426 ft) high turbines, at a sewage treatment plant in Spondon, Derby, scramble radar signals at East Midlands Airport six miles (10km) away.
They will have to be fitted with "clever electronics" to solve the problem, Severn Trent Water said.
It said the equipment will not cause the project to exceed its £7m budget.
An East Midlands Airport spokesman said the turbines create a "clutter effect", which causes a "critical" section of their flight radar to become unreadable.
Over the winter, while Severn Trent was testing the turbines, the airport had been able to deal with the effect on its radar but it said that during the summer it would not be able to because of increased air traffic.
The airport has two wind turbines on site, which it said do not affect the signals because they are too small and at the centre of radar.
"Safety at East Midlands Airport is paramount and will not be compromised, which is why it is essential that the technology is in place before the turbines can fully operate."
The spokesman added the airport is working with Severn Trent to install the equipment.
Martin Dent, renewable energy manager at Severn Trent, said: "It was a requirement of the planning consent that we installed some equipment."
He explained that the "clever bit of electronics" will remove the turbines from the airport's radar screens.
"It is not adding any further cost to this project. We had allowed in our budget a sum for this technology," he added.
The turbines, named Winnie and Tony by local schoolchildren, are expected to produce about 10,000 MWh annually when they are operational.
Related Internet Links
The BBC is not responsible for the content of external sites.