Hoarding can kill, firefighters warn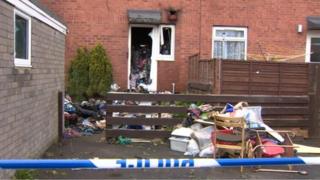 Firefighters are warning hoarders that their habit could kill them, and are offering advice as part of the UK's first Hoarding Awareness Week.
Fires spread more easily in the homes of hoarders, and hoarding makes it more difficult for people to escape.
Firefighters recently went to a flat in Derbyshire which was so cluttered that a fire would "almost certainly" have killed the elderly occupant.
Hoarded magazines, books, drawings and human excreta were blocking doors.
The fire service worked with other agencies in Derbyshire to help the elderly man, who is now maintaining a clean and tidy house.
Network of tunnels
Station Manager Mat Lee said: "Whether making a cup of tea, or sleeping in their own beds, these simple tasks can become impossible for hoarders because the spaces designed for living in have become storehouses."
In 2007, an inquest heard that a "compulsive" collector who hoarded tonnes of rubbish probably died when some of the items fell on him at his home.
John Jones' house in Aberystwyth was so full that he built a network of tunnels so he could move around - and police had to carry the 62-year-old's body out through a window.
In 2012, rescuers had difficulty saving a woman from a house fire in County Durham because she had hoarded so many items.
Anne Bradshaw, 66, later died in hospital.
Derbyshire Fire and Rescue Service has produced fire safety tips for hoarders - such as making it a priority to keep cooking areas clear, and planning an escape route.
They are mocking up a hoarder's living room at the Intu Derby shopping centre in Derby from 10:00 to 15:00 BST.
People will be challenged to find the settee, and there will also be advice from organisations including Derby City Council.