Swarkestone Bridge weight limit exceeded by lorry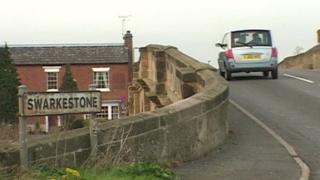 A food company has been fined for exceeding the weight limit on the UK's longest stone bridge.
Swarkestone Bridge, in Derbyshire, dates back to the 13th and 14th Centuries and to protect it, a maximum weight of 7.5 tonnes is imposed.
But when spot checks on the scheduled ancient monument site were carried out, a Teatime Tasties Limited lorry weighing 17.8 tonnes used the route.
The Tyne and Wear firm was fined £265 and ordered to pay costs of £115.
The bridge and causeway are about three-quarters of a mile long, crossing the River Trent and its flood plain in the village of Swarkestone, south of Derby.
It is a Grade I listed structure which was substantially rebuilt in the late 18th Century and was where Bonnie Prince Charlie stopped his march south in 1745 as he tried to claim the throne.
At Derby Magistrates' Court on Thursday, the food wholesales company, based in North Shields, admitted exceeding the limit and was fined.
Derbyshire County Council said it regularly monitored the area because of complaints from residents and historical groups worried about the structure of the bridge.