Derby City Council controlled by Labour despite losing seats to UKIP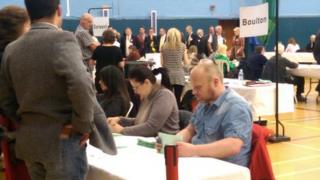 Labour has held on to Derby City Council despite losing seats to UKIP.
The anti-EU party won two seats, its first on the council, while the Conservatives kept 14 seats.
Labour kept the same number of seats overall, as it took one each from the Conservatives and Liberal Democrats - including the seat of Lib Dem Ajit Atwal, who was pictured posing with an AK-47.
Labour gained control in Amber Valley District Council.
Before Thursday, Labour was the largest party with 27 councillors, the Conservatives had 14 councillors, the Lib Dems nine and there was one independent.
The Lib Dems lost seats to both the Conservatives and Labour.
Labour's Dave Roberts had been a councillor for Derwent ward for 14 years, but was beaten by UKIP.
"We're in a war and we've lost a war. Or at least a battle," he said.
Alan Graves, who won the Alvaston ward for UKIP, said: "Around the country people say that we only take votes from the Conservatives - but tonight we won two Labour seats."
Labour leader Paul Bayliss said his party would reflect on the result.
"There is no doubt we have a lot to do in the city and we have a manifesto to implement... which we will do so we can hit the general election trail for May next year," he said.
Conservative councillor Philip Hickson will face a challenge to his leadership of the Conservative group from fellow councillor Phil Bailey next week.
Mr Bailey, who represents Chellaston ward, said he would bring "fresh ideas" to the party.
But Mr Hickson said he was "relaxed" about the challenge, adding he had "the experience and expertise to carry on leading this group".
The declaration of the election result was delayed by several hours when the European election returning officer demanded ballots were verified again.
The council election result had to wait until verification was accepted at 04:00 BST, with the final result declared at about 6:00.