£2.7m roadworks scheme delayed by crayfish discovery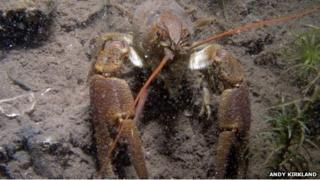 A £2.7m roadworks scheme has been put on hold after the discovery of white-clawed crayfish in a brook.
The crustaceans, which are the UK's only native freshwater crayfish, were found near the Little Eaton Island on the A38 in Derbyshire.
The species are protected by law and have to be removed safely.
The Highways Agency said it carried out an environmental assessment before the scheme began but the invertebrates have since been discovered.
The works, which were due to be completed in June, involve increasing the number of lanes and installing traffic lights at two roundabouts at the junction for the A38 in Little Eaton and Markeaton.
Kevin Harvey, the Agency's project manager for the scheme, which started in January, said: "We have already relocated 120 of this protected species but have the task of dredging a 200 metre brook.
"We carried out an environmental assessment before we started the scheme, which did not detect the presence of any protected species at the site."
The agency said it hopes to complete the work as soon as possible but it depends on if they find more crayfish. Some works have restarted while the search is carried out.
White-clawed crayfish are under threat by the North American signal crayfish, which carries a deadly fungus that the UK's native crayfish has no defence against.