Hilts Quarry nuclear dump housing plan prompts protests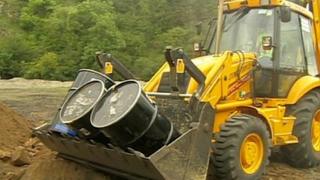 A new housing estate in Derbyshire could disturb a nuclear waste dump, nearby residents have claimed.
For decades Rolls-Royce legally dumped low-level waste at Hilts Quarry in Crich, before in was shut down in 2002.
Now Gladman Developments has submitted plans to Amber Valley Borough Council for 113 homes on adjacent land.
Residents said they feared sewers and other services could disturb the site, but Gladman insisted studies had shown there should be no problems.
The Hilts Quarry became the scene of intense protests before it was closed.
Developer 'listening'
Now campaigners said the issue had been resurrected by the housing plans.
Resident Patrick Cooke said: "You put a spade into a piece of ground and you never know what you are going to disturb.
"Rolls-Royce made it as safe as they possibly could and I don't want to see any of that safety disturbing."
Concerns have also been raised about whether local services and roads could cope with the extra demand the houses would bring.
Gladman Developments said it was listening to the protests but there was a significant need for more affordable homes in the area and the impact on local transport would be "acceptable".
It added reports had shown land near the quarry could be developed "without adverse effects".
The council said it had received a large number of submissions concerning the application and these would be considered when a decision is made next month.