Buxton wants Gilbert and Sullivan festival return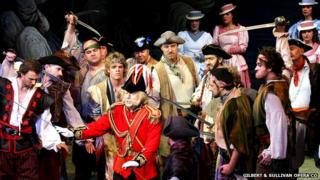 A local authority has said it is still trying to bring a Gilbert and Sullivan festival back to Buxton after it moved to Harrogate over a row over funding.
The festival had been held in the town since 1994 but will now take place in North Yorkshire, from August.
High Peak Borough Council said it has offered incentives for the event's return but not a cash grant.
The Gilbert and Sullivan Festival said it would make an announcement about its future on Wednesday.
'Interesting characters'
Ian Smith, chairman and artistic director of Gilbert and Sullivan Festivals Limited, had said previously he was forced to end the festival's stay in Buxton after the council stalled over contract negotiations.
However, since then, Caitlin Bisknell, leader of High Peak Borough Council, said negations had been "going well" and subsides had been offered but it did not stretch to a cash grant unlike on previous occasions.
Ms Bisknell said: "Times are hard for councils, we've had to make 30% cuts to our budgets, we can't be seen giving money to businesses."
In response to previous comments by Mr Smith that the council had not supported the festival enough, she said: "That's the kind of people they are… if you've spoken to the Smiths you will know they are interesting characters.
"They have their own take on things and like to get their own way, the council has said 'no', it's not in the interests of the town, or council, that we are pushed around like that."
She added that she would be "delighted" if the festival returned.
Mr Smith said he did want to comment until after a special event at the House of Lords on Wednesday to announce the 2014 programme and the future of the festival.