Derbyshire County Council Freemasons told to declare membership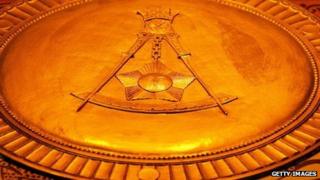 Derbyshire County Council has decided that councillors will have to declare membership of influential groups, including the Freemasons.
The measures are designed to ensure the integrity of the authority when acting on behalf of residents.
The Labour-led council said it was about transparency but the Conservative group said it was about prejudice.
The Tory leader compared the situation faced by Freemasons to that experienced by ANC members during apartheid.
Councillors have to declare membership of pressure groups, trade unions, the Freemasons or other influential bodies.
The decision provoked shouting, finger pointing and a small walkout at an earlier meeting.
'Bird-watching club'
Labour's Andy Botham, who put the motion forward, said: "I'm not prejudiced against Freemasons - I just used it as an example."
He added: "Anyone can be a member of a group but the people they represent are entitled to know about it."
However, Conservative leader Barry Lewis said: "It is about the principle of the thing - why single out a group like the Freemasons?"
He added: "The council has already got robust protections for ensuring councillors make declarations of interest about people they know - whether it be through a Freemasonry lodge or a bird-watching club."
Mr Lewis conceded that Freemasons did not face the same possibility of reprisals as members of the ANC during apartheid, but said he made the comparison as a way of getting people to understand why it was wrong to single out a particular group.
Earlier, two Tory councillors declared their membership of the Freemasons.