Derbyshire Police cell strip-search 'excessive'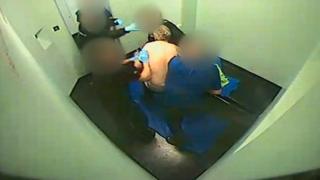 A man who was strip searched by Derbyshire Police officers after being arrested over a public order offence said it was "totally excessive".
Wayne McKenzie, 54, from Nottinghamshire, was detained in Long Eaton in January and taken to Chester Green police station in Derby.
He said he was taken to a cell by five officers, forced to the floor and stripped.
Police said they were investigating after receiving a complaint.
Talking about his experience, Mr McKenzie said he had co-operated with officers and described it "as a really scary experience."
"I felt dirty when I got home", he said.
He is now considering taking legal action against the force.
Mr McKenzie requested the footage of the search to defend himself in court after he was charged.
Magistrates later found him not guilty of the public order offence.
Snap inspection
Last year, the force's use of strip searches in its custody suites was labelled "concerning" by inspectors.
The independent snap inspection, carried out in May, found there was a "high incidence" of strip searching of detainees, which it said was "excessive".
It called for the force to stop the "over-use" of the tactic.
Responding to the criticism, Derbyshire Police said: "In respect of the strip search policy, our approach has always been based on minimising the risk to detainees as their safety is our main priority.
"We want to ensure that detainees aren't in possession of anything which they could use to harm themselves while they are detained in a cell."
However, last year's inspection found that in some cases, officers were unable to "provide a cogent explanation as to why this [strip searching] was a proportionate response."