Derwent Pulse art project will light up river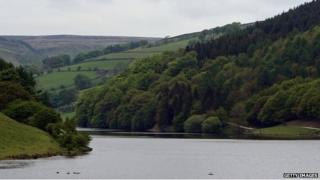 Up to 1,000 pulsating lights navigated by GPS will cascade down the River Derwent in a major public art project.
Called Derwent Pulse, the project will recognise the river's industrial heritage and involve hundreds of people from Derbyshire communities.
It is being led by artist Charles Monkhouse, who previously lit up the route of the old Cromford Canal in a project for the Cultural Olympiad.
Derwent Pulse will take place over the lunar month in October.
It will also link in with Matlock Bath Illuminations in the same month.
The project has been commissioned by Derwent Valley Mills World Heritage Site.
Its director Mark Suggitt said: "What people will see depends on where you are, because it will be starting at the course of the river up in the Peak District, and then flowing down through Chatsworth Estate, through Belper and through to Derby.
"For example, at Belper where the river broadens out near the mills and the river gardens, you will be able to see these pulsating lights forming patterns across the broad shape of the river."
The river was important in the Industrial Revolution, as it was used to power textile mills built alongside it.
These included Cromford Mill, the world's first successful water-powered cotton spinning mill, built in 1771 by Sir Richard Arkwright.
The importance of the Derwent Valley Mills is recognised by their designation as a World Heritage Site.
The Derwent Valley was also used to rehearse the World War Two Dambusters raid.
Some of the lights will float on the water itself but others will be carried alongside it in parades.
Images of the light flow will be documented by a team of photographers.
The photos will be exhibited in Derby's Silk Mill and archived on a website.
The lights - still pulsating - will be distributed to industrial world heritage sites which echo the history of the Derwent Valley.