Derbyshire chief executive Nick Hodgson's payout was £220,000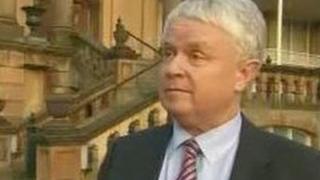 A council chief executive was paid nearly £220,000 when he left his position, the authority has confirmed.
Nick Hodgson left his £152,000 a year job on Derbyshire County Council in May last year, two weeks after Labour took control.
Council leader Anne Western said a legal clause had prevented the figure being released at the time.
Labour has been accused of getting rid of "one of the best chief executives in the country".
'Nothing to hide'
The authority said Mr Hodgson, who had spent 38 years on the council, 16 as chief executive, had received a £219,211 severance payment when he left the authority.
The council also spent £16,000 in legal and recruitment costs.
The figures will be published in the council's annual statement of accounts later on Friday.
Conservative leader Barry Lewis said it was not money well spent and accused Labour of getting rid of Mr Hodgson because they believed he was "more supportive" of Tory policies.
He said Mr Hodgson was one of the "best council chief executives in the country" and "would have worked equally as well for this administration".
The council said the figures were not revealed at the time because of a "confidentiality clause", agreed between Mr Hodgson and the council.
Mrs Western said: "I would have wished to have been able to give more information than I was and that was because of a legal clause that was in the agreement that constrained me from speaking not because I was hiding.
"There is nothing to hide, there is no mystery."
The authority is looking to cut £157m from its budget by 2018.