Derby Cathedral peregrines begin to fledge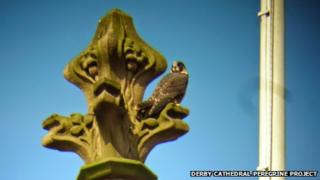 The first of three peregrine falcon chicks has fledged from a nest on Derby's cathedral tower earlier than expected.
Derby Cathedral Peregrine Project has been helping an adult pair of the birds to nest and raise infants since 2006.
Last year, Derbyshire Wildlife Trust, which monitor the birds through a webcam, lowered a hot water bottle down the tower to melt snow on the nest.
In Nottingham, four chicks fledged earlier in June.
'Flight muscles'
Nick Brown, from Derbyshire Wildlife Trust, said: "The first young peregrine flew a few days before we were expecting.
"Usually they flap about on the nest for up to a week, strengthening their flight muscles, before launching themselves into the great blue yonder for the first time.
"The first one to fly was on the nave roof initially but has managed to fly up to the top of one of the highest pinnacles so we are confident that it will be fine."
In May, a fourth chick died but the rest of the clutch remained healthy.
In Nottingham, four peregrine chicks fledged from a nest on top of Nottingham Trent University's Newton Building.
Nottinghamshire Wildlife Trust, which rings the birds, said 21 chicks have been born on the Nottingham city centre nest since 2007.
The falcons have been monitored through a webcam but the cameras were turned off in 2012 when cold and wet weather led to the deaths of three chicks.