Derby University jab blunder students seek compensation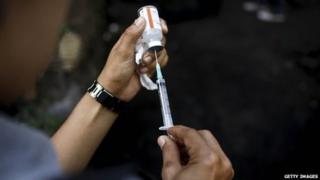 Dozens of Derby University students are planning to sue for compensation after it was revealed they were given blood tests with reused syringe barrels.
More than 600 students had blood tests or vaccinations between 2005 and 2013, conducted by a health worker who has since been suspended.
A Leeds-based legal firm said it would ask for compensation for about 50 of the students affected.
The firm said it was still deciding who to take action against.
Syringes were changed between patients, but the barrels to which needles are attached, were reused.
'Very distressing'
A spokesman for Cohen Cramer Solicitors said the students were "put at risk of contamination for hepatitis B, hepatitis C and HIV".
The spokesman said some students had to wait for a number of weeks before they received the all-clear following blood tests.
Solicitor Emma Mason said the tests were "very distressing for students, their families and loved ones".
"There have been no reports of anyone becoming infected as a result of the error however this does not diminish the stress and worry for the students, both past and present," she said.
Doctors said the risk of infection was "extremely low".
NHS England, which is leading the investigation, said it had received acknowledgments from more than three quarters of those it had tried to contact but did not know results of individual test results.
Derby University said in an earlier statement the error was "deeply regrettable" and it apologised for "the potential distress this may cause to the people involved."