Toddler rescued from car by Derbyshire police officer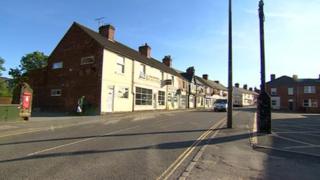 A 46-year-old man has been detained after a toddler was rescued from a locked car in Derbyshire.
An officer broke the window of the car, parked on Market Street, in Clay Cross, Chesterfield, and took the 18-month-old girl into a nearby community centre.
Derbyshire Police said the child was distressed and taken to Chesterfield Royal Hospital as a precaution.
A spokeswoman added that the man is being questioned and social services were involved.
Martin Intronea, who was working on a nearby building site, said he saw the child "alone and crying" inside the car at about 14:15 BST.
"It was very distressing," said Mr Intronea, who alerted police.
"The baby was red and dehydrated and clearly upset and crying.
"When the baby was brought out we were relieved but still upset and distressed by the state of her."
A hospital representative said the girl had since been released from hospital "with no issues" and was now in the care of a relative.