Derby City Council admits recycling down after green waste charge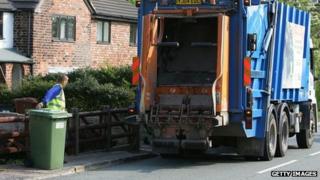 Derby City Council has admitted its falling recycling rates could be because of the introduction of a £40 charge for collecting garden waste.
The payment was imposed in October in order to save about £1.6m per year.
The authority said recycling figures dropped from 46.4% to 45.6% at the time of the charge and is predicted to fall to 41% by the end of 2014.
Environmental campaigner Simon Bacon said more garden waste would be going to landfill as a consequence.
'Signing up'
Mr Bacon, who campaigned against a waste incinerator in Sinfin, said the charge will have hit rates, but added that recycling has been falling since 2010-11 anyway.
"We hit a high of 48% at that point and it's dwindled every year since... we're going backwards and I'm not quite sure what's going off," he said.
The decision to charge for brown bins proved controversial and some residents held protests.
The council aimed for 20,000 households to sign up for the garden waste collection scheme but so far only 11,454 homes have applied.
It also has a target of getting 50% of the city's waste recycled but the rates have been falling for the past three years.
Waste treatment plant
In a statement, a council spokesman said: "There has been a fall in recycling in the last year so far compared to 2012-13.
"This is from 45% to an unconfirmed 41%, which may be as a result of the recent change to garden waste collections."
Paul Robinson, the council's deputy chief executive, said he expected the rate to rise when a waste treatment plant, which extracts recyclable material, is running.
He said it would take out about 10% of recyclable material before it goes into the plant which should mean rates are up to 50%.