Derby church appeal after heart defibrillator stolen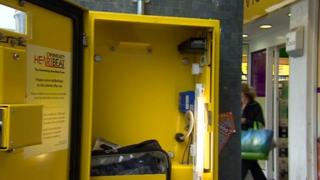 A Derby church has appealed for a heart defibrillator to be returned after concluding it was stolen.
The Central United Reform Church first believed the life-saving equipment, installed on a pillar on Victoria Street, was taken legitimately as the locked cabinet had not been damaged.
However, Reverend Jim Gould said the theft had now been reported to police.
He said it had cost £2,000 but was "totally useless" to anyone as vital parts were left behind.
'Mischief and craziness'
"The thieves can't use it because they left the business end of the kit, the chest pads and breathing masks, in the box, untouched," he said.
"It's unfortunate for someone who has a heart attack, because they won't get treatment immediately.
"The police said they would examine CCTV footage, but I'm not hopeful."
Rev Gould added that he was "gutted" and had "no idea" why anyone would want to steal the kit.
"Mischief, craziness, just because it's there maybe or to prove they're clever," he said.
The money for the emergency community defibrillator, which has been in operation since February, had been raised by the church.