Simulator to help set Derby City Council budget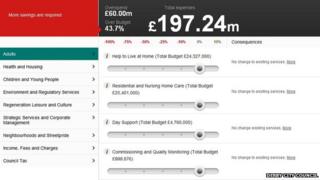 The public, businesses and faith and community groups are being asked to help set Derby City Council's "priorities" in a major consultation.
The authority has set up The Big Conversation Budget Simulator allowing people to input where £197m should be spent to save £60m by April 2017.
It said the results would be considered to help decide the council's autumn budget proposals for the next tax year.
The council plans to axe about 350 jobs on top of 1,200 lost since 2010.
Derby City Council said the job losses helped it save £67m since the government cuts were introduced.
Council leader Ranjit Banwait said: "We're trying to embark on the broadest consultation in the history of the council and the the city.
"The council is going to shrink by 40% and we are not going to be able to do all the things we have historically done.
"This is an opportunity for the members of the public, businesses, faith sectors, community groups and anybody who has a stake and an interest in Derby to help set the council's priorities."