Matlock Bath's Jubilee Bridge officially reopened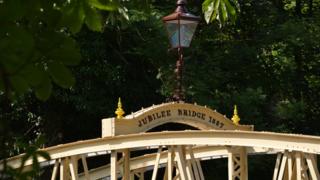 A Victorian bridge in Derbyshire which has undergone restoration work costing £210,000 has been officially reopened.
Jubilee Bridge, in Matlock Bath, which opened for Queen Victoria's Golden Jubilee in 1887, has been blast cleaned and repainted in its original colours.
Efforts have also been made to make the River Derwent bridge structurally sound for the future.
Derbyshire Dales District Council's deputy leader Geoff Stevens said it would be good for tourism in the town.
'Beautiful restoration'
He said: "It's one of those things you see and one of the sites you remember about Matlock Bath.
"All the colours are the same [as when it opened], it's been followed on the reports that were published at the time in the newspapers, and we've also restored the lanterns. It looks magnificent."
Local historian Rosemary Thacker found a newspaper article from 1887 which revealed the bridge was painted in four colours - warm stone, bluish grey, deep chocolate and golden yellow.
The work stalled last year because the Environment Agency feared scaffolding could not be removed quickly enough if the river flooded.
The council postponed the work because the delay meant the bridge would have had to remain shut for the annual Matlock Bath Illuminations.
The work was funded through the authority's capital budget after residents and traders said it was "in need of refurbishment".
A family from Sheffield were the first to cross the bridge after it was reopened by Councillor Carol Walker.
Lydia Partington said: "It's a beautiful restoration and the bridge looks absolutely amazing on a sunny day like today."