Derbyshire housing demand prompts council row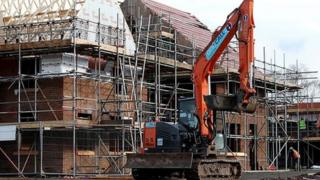 Demand for new housing in and around Derby is causing a row between city and district councils.
The city's 250,000 population could grow by at least 10% over the next 15 years but space for new homes is low.
A report to a neighbouring council has now said it is no longer "mutually beneficial" for South Derbyshire to take any more of Derby city's growth.
South Derbyshire said it had taken all it could but the city council said everyone had to work together.
Pressure on housing is an issue across the county.
Brownfield pressure
Amber Valley and Derbyshire Dales councils have been told by government inspectors their future housing plans have not identified enough land for the predicted growth in Derbyshire's population.
Martyn Ford, Conservative borough and county councillor for the area, and Chair of South Derbyshire District Council's planning committee, pointed out the area had already agreed to take 13,500 homes, which would serve Derby.
He said: "If Derby look hard enough they will find places where they can put homes and that will relieve the pressure on South Derbyshire and Amber Valley from using up even more greenfield sites to make up for Derby's growth.
"They really must use all the brownfield areas in the city before they even think about using more greenfield sites."
Martin Rawson, Labour cabinet member for planning at Derby City Council, said: "It is about working across local authority boundaries to make sure we have the infrastructure in place.
"If we do that, the physical boundaries become less of an issue. We have worked together well to this point and that is the way forward.
"But we are looking at brownfield sites and making use of every bit of space possible."