Derby pantomime cancelled due to Assembly Rooms fire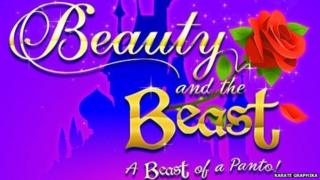 Derby's annual Christmas pantomime has an uncertain future after this year's event was cancelled.
The Beauty and the Beast show has been axed because no alternative venue has been found after the Assembly Rooms closed in March due to a fire.
Martin Rawson, deputy leader of Derby City Council, said scrapping the event was "disappointing" and admitted no commitment had been made for next year.
People who have bought tickets for the pantomime will be offered a refund.
The popular theatrical event, which attracts thousands of people each year, was due to be held at the city's Assembly Rooms.
A major fire on the roof of the venue's car park closed the buildings.
Although the car park reopened three months after the blaze, the venue itself will remain closed until at least the end of next year and could even be demolished.
Mr Rawson said: "It's very disappointing and it's not a decision that has been taken very lightly.
"We've got to see what happens with the Assembly Rooms going forward, hopefully it will be returning to the city very soon."
He added: "It's too early really whether we can make that commitment for the following year."
Alison Martin, cabinet member for leisure and culture at the council, said: "Any option we've looked at, there's no guarantee that it would bring in any money, in fact there is possibility that it would loose us money.
"Sadly it will have to be cancelled and full refunds will have to be made."