Trout relocated from Lathkill River near Bakewell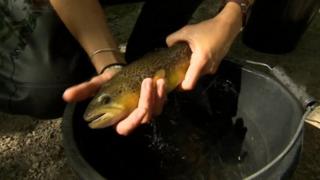 Hundreds of fish have been relocated from a Derbyshire river after being trapped by low water levels.
The fish in the Lathkill River near Bakewell were moved to another section of the river downstream, the Environment Agency said.
A two-kilometre (1.25-mile) stretch of the river often runs dry in the summer.
The fish, mostly trout, are removed by net after being stunned with a small charge of electricity, Environment Agency spokesman Matt Buck said.
About 2,000 fish are expected to be moved from the river in the next few days, Mr Buck said.