Right-handed Admiral Lord Nelson letter found in house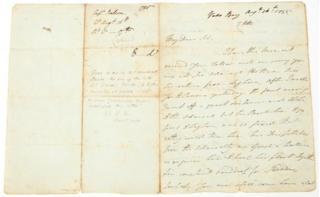 An early letter Admiral Lord Nelson wrote using his right hand - two years before he lost his right arm in battle - has been discovered.
The letter is dated 16 August 1795, when Nelson was 36, and 10 years before he was killed at the Battle of Trafalgar.
Hansons Auctioneers in Derbyshire sold a Nelson letter for £54,500 last year.
Charles Hanson, manager of the auctioneers, discovered the most recent letter at a house in Derby.
It was written in Vado Bay, Italy, and sent to Francis Drake, the British minister in Genoa.
---
The letter's 'remarkable' postscript
"If you could, without great inconvenience, come for a day to Vado I should like to know from you the exact plans which the army is to follow, at present I am completely in the dark."
---
Mr Hanson said the letter's postscript was "remarkable", because Nelson wrote that he was "completely in the dark" about the plans the army was to follow.
Mr Hanson said: "The letter highlights that even our greatest maritime war hero was often 'in the dark' as to the movements the army were to follow.
"We always perceive Nelson to be at the helm of every battle and conflict and clearly in this letter he was somewhat concerned."
Mr Hanson hopes the letter will go on to reside at a museum or private collection when sold on 27 September.
"Received by Francis Drake's secretary as is noted on the letter, it clearly shows Nelson's determination and potential to rise through the ranks," he said.
"The letter also reflects the fact that Nelson was not always in the know as to certain movements and clearly in this letter vents his frustration."