Peak District Stanton Moor quarry plan rejected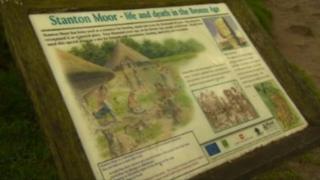 A plan to start stone-sawing operations close to a long-standing former eco warrior camp has been turned down.
Campaigners said the Peak District National Park Authority's decision to reject the plan for Dale View Quarry in Stanton Moor, Derbyshire, was a "victory for common sense".
The authority said the application would have been too noisy and was too close to the area's ancient monuments.
Applicant Marshalls Stancliffe Stone said it was "surprised" at the outcome.
'Final straw'
Campaigner Howard Griffith accepted that this part of the Peaks is traditionally a quarrying area.
But he said: "Bringing stone saws to Dale View would have been the final straw in ruining this beautiful place.
"People come from all over the world to visit the ancient monument and they should be able to appreciate it in a tranquil setting, not with the noise of cranes and bulldozers in the background."
The planning committee's vote was "definitely one for common sense", he added.
---
Anti-quarrying camp
Eco warriors set up camp at the bronze age Nine Ladies stone circle in 1999 in a battle against quarrying in Stanton Moor.
They did not leave the site until 2009 after Stancliffe Stone agreed to give up its 1952 planning permission to work at two nearby quarries - Lees Cross and Endcliffe.
In exchange, the national park authority allowed it to quarry at Dale View.
---
The national park authority said the application, which included two stone cutting wire saws and a fixed crane arm, would have impacted on the "quiet enjoyment" of Stanton Moor.
A spokeswoman said it was also too close to the moor's ancient scheduled monuments.
Marshalls Stancliffe Stone said: "We were aware of the perception that stone sawing could be intrusive, and we supported the recommended conditions for planning approval which would have addressed any genuine concern."