Jet2 stunt in Derby 'turns into fighting mob'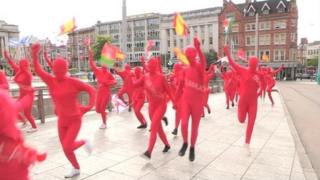 A promotional stunt by an airline turned into a "mass brawl" as people "desperately" competed to obtain free flights.
People in Derby chased young women dressed in full body spandex suits who were giving out the Jet2 tickets.
There were reports of some of the women being rugby tackled to the ground, crying in distress, and members of the public being injured.
The company said the same stunt went "smoothly" in Nottingham and Leicester.
George Salloway, 18, helped one of the women in Derby after seeing her rugby tackled to the ground by an older woman.
"I'm a first aider so I was trying to make sure she was all right," he said.
"Myself and I think two of the Jet2 staff took her to sit down just around the corner.
"She was clearly so upset. There were tears, she was shaking and it was just horrible to be there really."
He believes the event on Wednesday "got out of hand to the point where they couldn't control it" because too many people turned up.
However, he said Jet2 staff were not at fault.
"When one person starts running, everyone starts running, and it becomes a mass brawl," he said.
"People were just so desperate to get tickets they were going to anyone in morph suits trying to rip the flag out of their hand to see if they have got tickets.
"There was a bloke who had a large cut on his hand."
Jet2 said in a statement: "We had three events across the East Midlands yesterday and while Leicester and Nottingham went smoothly, the giveaway in Derby generated a little more excitement than anticipated.
"Whilst one or two of our team were a bit shaken, we took care to make sure everyone was OK."
---
'No need to chase'
Zara Leadbeater, who won flights to Malta, said the Derby event was "good fun" and she and her children "really enjoyed" it.
"I set my 10 and 11 year olds amongst the chaos, so if I thought it was dangerous I never would have done that," she said.
"The only rough incident I saw was actually one of the morphs, she got quite aggressively grabbed by a group of lads and actually ran into a shop frightened."
She said the Jet2 staff advised members of the public to stand still but were not heard very well.
"They literally told the morphs to run off but then everybody started to chase them," she said.
"I did, however, stand back with my little boy who is four, and I stood back with him and we were walked up to and handed tickets, so you didn't actually need to go in and chase them all after all."