Alfreton pool forced to close for repairs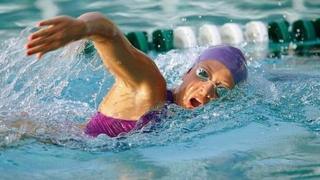 Repairs have forced the temporary closure of a Derbyshire leisure centre's main pool, just five years after it was built.
Alfreton Leisure Centre's pool will be shut from 8 September until late November after tiles started to lift.
Officials from Amber Valley Borough Council said they were "disappointed" as the tiles were supposed to have a 70-year lifespan.
They said they were relocating clubs and classes to nearby facilities.
The pool experienced problems during construction when it was found the main part of the basin was not waterproof.
School holidays
Now Peter Sharkey, the centre's general manager, admitted a new problem had emerged over the past few months.
He said: "Tiles started to come away in the shallow end in January and we monitored that.
"It's perplexing but it just seems to be a patch at that end as nothing has come away in the deep end.
"We have waited until the school holidays are over and will now investigate and test all the tiles and fix them where necessary."
Customers are being reminded the smaller pools at the centre are open as normal and alternative facilities are available at Ripley and Heanor.