Ilkeston's minor injuries unit to close overnight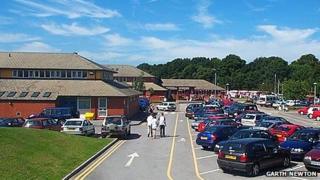 A hospital's minor injury unit will close overnight after audits showed it was underused and unsuitable to treat children.
From October, the unit at Ilkeston Community Hospital will shut between 22:00 and 08:00 BST.
The Erewash Clinical Commissioning Group said the decision was for safety reasons and not a cost-cutting measure.
However, money saved from the closure will be spent on a pilot scheme to improve GP services at the hospital.
The unit is led by nurses and deals with non-life threatening injuries including sprains, breakages, infections, minor burns and minor head or eye injuries.
Safety issues were highlighted by the Royal College of Paediatrics and Child Health after an audit showed there was a lack of specially trained nurses to deal with children on the night rota.
A further review by the Erewash Clinical Commissioning Group found the unit was underused in the evening.
Dr Markus Henn, from the commissioning group's governing body, said during the unit's closure patients would have to visit A&E at Derby or Nottingham or use the 24-hour GP service.
"The reality is that the demand at night is quite different to the demand during the day," he said.
"The reason for the closure is not so much the lack of money.
"It was prompted by the Royal College of Paediatrics and Child Health who conducted an audit of units in the country and their conclusion was that, for children, during night time hours it was not safe."
Patient Angela Smith said she wanted to see the unit open 24-hours a day.
"I'm really cheesed off with this idea that everything should be centralised," she said.
"We are losing what the NHS was set up for and we are losing a sense of community."