HMP Sudbury missing prisoners' pictures released by police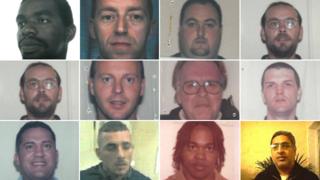 Images of all 24 inmates on the run from a prison have been released in an attempt to catch them.
Between 1992 and 2006 Derbyshire police did not issue pictures of missing convicts but has now revealed all 12 who remain at large after escaping from HMP Sudbury during that period.
The force has also re-appealed for help with 12 who have absconded since 2007.
The 24 men from around England and Wales include a murderer, burglars, men convicted of assault and fraudsters.
Derbyshire police said they took the unusual step after looking at the way they tracked missing prisoners but admitted many of the inmates would have changed since their pictures were taken.
Since 2007 it has issued a photograph and appeal for help every time a prisoner absconded or failed to return to HMP Sudbury, between Uttoxeter and Derby. Before then it was not policy to do so.
Assistant Chief Constable Martyn Bates said: "We are doing everything possible to trace and arrest these outstanding prisoners and we have recently reviewed our processes.
"We have also increased dedicated resources to further improve our success but these men have eluded all our efforts to trace them."
None of the prisoners were originally from Derbyshire and all have links to areas around the country.
HMP Sudbury, which has had almost 1,000 prisoners abscond since 1995, was criticised in March for failing to prepare inmates for release.
Justice Secretary Chris Grayling said absconds had "reached record lows" under the current government, falling by more than 80% in the last 10 years, and "major changes" had been made to tighten the system.
"It is clear that open prisons and temporary licence are important tools in rehabilitating long-term offenders but they will not be used at the expense of public safety," he said.
"Following a comprehensive review we have tightened the eligibility for open prisons, introduced significant restrictions on who is granted temporary release and will be bringing in world-leading technology so we can monitor their whereabouts and help lower the numbers further."