Buxton water factory site £35m shops plan unveiled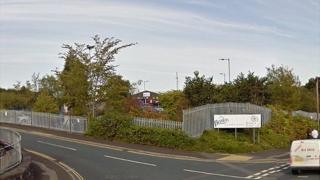 Plans for a £35m redevelopment of a former industrial site in Derbyshire have been unveiled.
Buxton Mineral Water moved out of Station Road to a new location on the edge of town in 2011.
The company's owner, Nestle, now wants to use the land for a supermarket, hotel and restaurant.
Campaigners successfully blocked a supermarket being built there in 2011 and some residents have said they fear the scheme's impact on the town.
Resident Terry Yates said: "I think it will kill off local trade. I used to work in a small shop and when the supermarkets began to open nearby that closed.
"It is a derelict site and something needs to be done but it has to work for Buxton, rather than just for the business."
Dan Bramwell, from developers Consolidated Property Group, sought to reassure doubters.
"The whole point is to open the site up and work with the town centre so people shop at both," he said.
"It is a mixed unit with smaller shops included and we will be holding a consultation and listening to the public." he added.
The public consultation display will take place in September, with a planning application expected by the end of that month.