Derby war memorials repair fund plan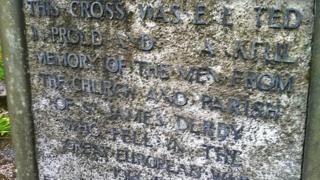 Moves to safeguard war memorials in Derby have been started by the city council.
In partnership with English Heritage it is surveying all the monuments in the city and has identified a number in need of repair.
While the council cannot fund the work, it said it would be applying to various grant awarding bodies.
The Derbyshire War Memorials Trust welcomed the initiative and called for more work to protect the memorials.
Councillor Asaf Afzal, cabinet member for neighbourhoods and street pride, said: " I'm sure I speak for most people in the city when I say how important it is we continue to remember the fallen and their loved ones.
"Improving the quality of the memorials gives them the honour and respect they deserve."
Kevin Miller, from the memorials trust, said the "vast majority" of memorials needed some work and all needed protection.
"I am very pleased the council is taking a lead on this - we have had nearly 100 years to keep these in good order," he said.
"And to be honest the main scourge of the memorials is man made - people stealing the metal."