Emas paramedic error led part of pancreas to 'die off'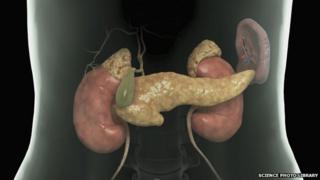 Half a man's pancreas "died off" after a paramedic failed to diagnose him correctly, a report has revealed.
The paramedic advised the man to take painkillers and left him at home in Derbyshire.
Two days later he was admitted to hospital and advised "half of his pancreas has died off as he did not receive immediate medical attention".
East Midlands Ambulance Service (Emas) has apologised to the man and said lessons have been learned.
The incident happened on 19 February, but is detailed in a report updating directors on patient safety.
The report states: "The clinician failed to act appropriately upon the findings of the examination and therefore the examination did not result in the potentially correct diagnosis."
It said the "inadequate assessment, treatment and safety netting" had led to pancreatic necrosis.
The level of harm caused was rated as four, which means "severe harm - permanent injury / requires help with activities of daily living".
The only higher rating is five, which means death.
Can you live without a pancreas?
The pancreas produces insulin and glucagon, two hormones that regulate sugar levels in the blood
Insulin lowers blood glucose levels by stimulating cells in the body to use and store it
Glucagon has the opposite effect, triggering the release of stored sugars and increasing the concentration of glucose in blood
It is possible to live without a pancreas provided people take insulin to regulate blood sugar concentration and pancreatic enzyme supplements to aid digestion
Read more about the pancreas and how the human body works on the BBC Science website
East Midlands Ambulance Service said in a statement: "For reasons of patient confidentiality, we are not able to provide any more information on this specific case.
"However, we would like to assure the public that we've fully investigated this serious incident and the lessons learned have been shared with staff to limit the chances of similar circumstances occurring again.
"We have also offered our sincere apologies to the patient for any distress that may have been experienced."