Peak District trail riders vow to fight on after lane ban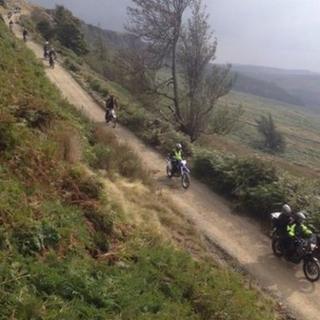 Trail riders in the Peak District have vowed to continue fighting after a popular route through the park was closed to them.
A 2.2m (3.5km) stretch of Long Causeway, near Stanage Edge, is now subject to a traffic regulation order.
The park authority said the restrictions were needed to protect the wildlife and character of the area.
But pro vehicle groups said they were being treated unfairly.
The closure order is part of a long running battle between the authority and vehicle users over the routes, known as "green lanes".
'Hoodlums'
On Sunday, about 80 riders gathered at Stanage Edge to oppose the ban.
Richard Simpson, from the Trail Riders Fellowship (TRF), said: "It is to the shame of the park authority that it has chosen to close this lane."
He said responsible users such as the TRF were being tarred with the same brush as off-piste "hoodlums" in the park.
Mr Simpson added that the group would continue to defend the rights of all to use rights of way in the Peak District.
The TRF said that out of 3,000 miles of pathway in the Peak District, only 2% can be used by motorised vehicles. The others are under traffic regulation orders or are footpaths or bridleways.
However, the Peak District National Park Authority said the decision to close the route was largely due to the "natural beauty" and "remoteness" of the area.
It said Long Causeway typifies the tranquillity most people value when visiting the park.
Earlier this year a ban on the Roych, which is part of the Pennine Bridleway, near Chapel-en-le-Frith, was introduced.
The authority is also monitoring other areas of the Peak District, which attracts more than 10 million visitors a year.