Assembly Rooms: 'Cultural wasteland' risk for Derby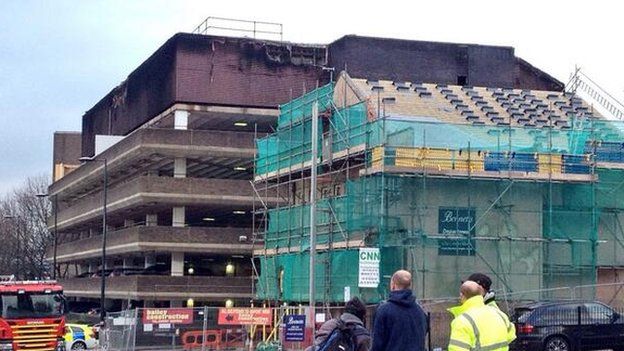 A leading concert promoter has said Derby risks becoming a "cultural wasteland" if the fire-hit Assembly Rooms is not repaired and opened soon.
The venue is expected to be shut for another year after it was closed in March following the blaze.
Stuart Littlewood, chair of the Concert Promoters Association, said the closure is damaging the city.
Derby City Council said it was looking at all future options for the Assembly Rooms.
Mr Littlewood said: "Concert promoters like Derby, [the Assembly Rooms] plays to several hundred shows a year so concert promoters will be hurting.
"It is more upsetting for the people of Derby because they will have to travel to Nottingham or Sheffield to see the touring shows."
He added if the building is not repaired or replaced Derby "could become a cultural wasteland".
Conservative councillor Philip Hickson said the Labour-led council should get the venue in use as soon as possible.
He said: "The council seems paralysed by the task ahead of it and doesn't know what to do, like a rabbit dazzled in the headlights."
Councillor Alison Martin, cabinet member for leisure and culture, said in a statement that the authority is looking at the option that represents value for money for Derby residents.
She said: "The council realises that residents, businesses and visitors are waiting for an announcement and we can confirm that options and outline costs are being developed so that these are available once the [council's] future financial position is known."
Related Internet Links
The BBC is not responsible for the content of external sites.