North Wingfield fire: 'Missed opportunity' to raise alarm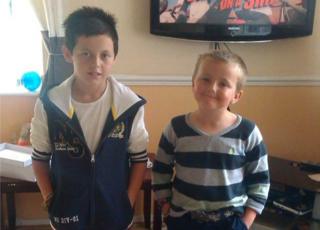 There was a "missed opportunity" to raise the alarm during a house fire which killed two women and two children, a coroner has said.
Josie Leighton, 32, her two sons Tyler Green, nine, and Jordan Green, 12, and Claire James, 27, died in the fire in North Wingfield, Derbyshire in 2013.
The inquest was told a neighbour heard a smoke alarm and went back to sleep.
But the coroner said there was nothing to suggest raising an early alarm would have made a "material difference".
Ms James's neighbour, Sarah Hempshall, said she was woken by noises at about 01:30 GMT on 20 November.
She told the inquest at Chesterfield Coroner's Court: "I thought they were cooking something at first and then I thought why are they cooking something?
"It is since then that I found out what that smell was."
Ms Hempshall woke again at about 03:00, but only called emergency services at about 05:00, when she found smoke in her own home.
The inquest also heard that seven-year-old Tia James, the daughter of Claire James, escaped the house and knocked for help at a neighbour's home.
James Newman, Assistant Coroner for Derbyshire, said: "From Tia's evidence she recalls going downstairs, grabbing a blanket and pillow and making her way outside, trying to rouse the neighbours, from which unfortunately she got no response."
Firefighters later found Tia in the back garden suffering from smoke inhalation and hypothermia.
'Plasticky smoke'
The girl told police that during the fire she recalled her mother saying: "Let's get everybody downstairs."
She was able to get out because she was smaller than the others, meaning she was below the smoke, the hearing was told.
Another neighbour, Ian Shaw, said he heard a girl shouting "Mum" at about 01:30 GMT when he went to take his dog outside.
He said he felt guilty and apologised for not going to have a look.
The women and two boys died from inhaling "plasticky thick dense smoke" in the fire, which was caused by faulty electrical wiring.
The coroner concluded the deaths were accidental.